To nurture and strengthen the blissful bond between you and your child from day one
Born from the wisdom of one special mom, now trusted by generations of healthy families.
Mommy's Bliss was founded by my mom, Roshan Kaderali, a nurse and certified midwife, who used Gripe Water to ease infant tummy troubles for years while working in Scotland. When she moved to the U.S., she was shocked that the "magical" Gripe Water formula she loved wasn't available here. So, she created it herself and the rest is "bliss"tory.
We're proud that for nearly 25 years, we've been growing our collection of health and wellness products to help make your parenting experience a little bit better.
We're in this together – helping moms like you bond with your babies & kids and take care of yourself too, with trusted products that keep them (and you) happy, healthy, and thriving. ​
Our products are designed with safe, trusted ingredients by our team who've been just where you are right now. These are the products that we use ourselves and with our families. That's why we call it Mom-Designed Peace of Mind.
- Yasmin
Mom & CEO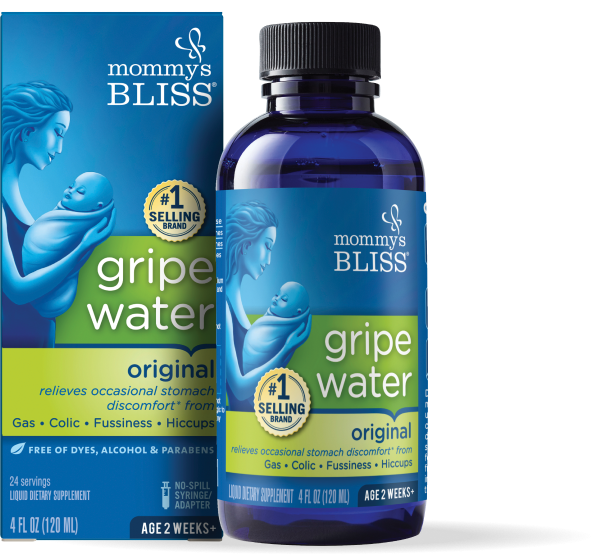 Product Quality
From the selection of high-quality, trusted ingredients to the manufacturing process itself, we are working every day to ensure that all aspects of our business align with our guiding values and our highest standards.  ​​
We strive to source our ingredients and packaging from producers that use third-party certifications to provide transparency and accountability. As parents, we know that safety comes first. Here are some of the certifications you'll see on our packages:​​
​
Our team culture and our guiding values at Mommy's Bliss are as important as our products. We wouldn't have one without the other. Building a positive, celebratory environment, taking care of our health and wellness and providing support for one another along the way is what makes Mommy's Bliss such an amazing place to work. We're in this together. With you, our Mommy's Bliss parents, and with one another in a workplace that is truly a blissful company to call home
INNOVATION
We're constantly finding our inspiration from our own experiences as parents and developing new products that make your parenting experience just a little bit better.
INTEGRITY
To us, integrity means taking responsibility for our actions and being accountable for the impact we have on others and the world around us. We believe in doing the right thing, even when it may be difficult or unpopular.
HEALTH & WELLNESS​​
We are committed to creating an environment that supports and promotes the well-being of our employees, our consumers...and ourselves.
COMPASSION​​
We firmly believe in acting in ways that reflect how much we care for our consumers, our company, and each other.
QUALITY
Quality is deeply ingrained in our DNA and serves as a guiding principle in everything we do. We are committed to delivering products that consistently meet and exceed the expectations of our consumers.

CELEBRATION​
We love celebrating! It's at the heart of our team culture. We believe that recognizing and celebrating achievements, milestones, and moments of success is essential in creating a positive, fun engaging work environment.